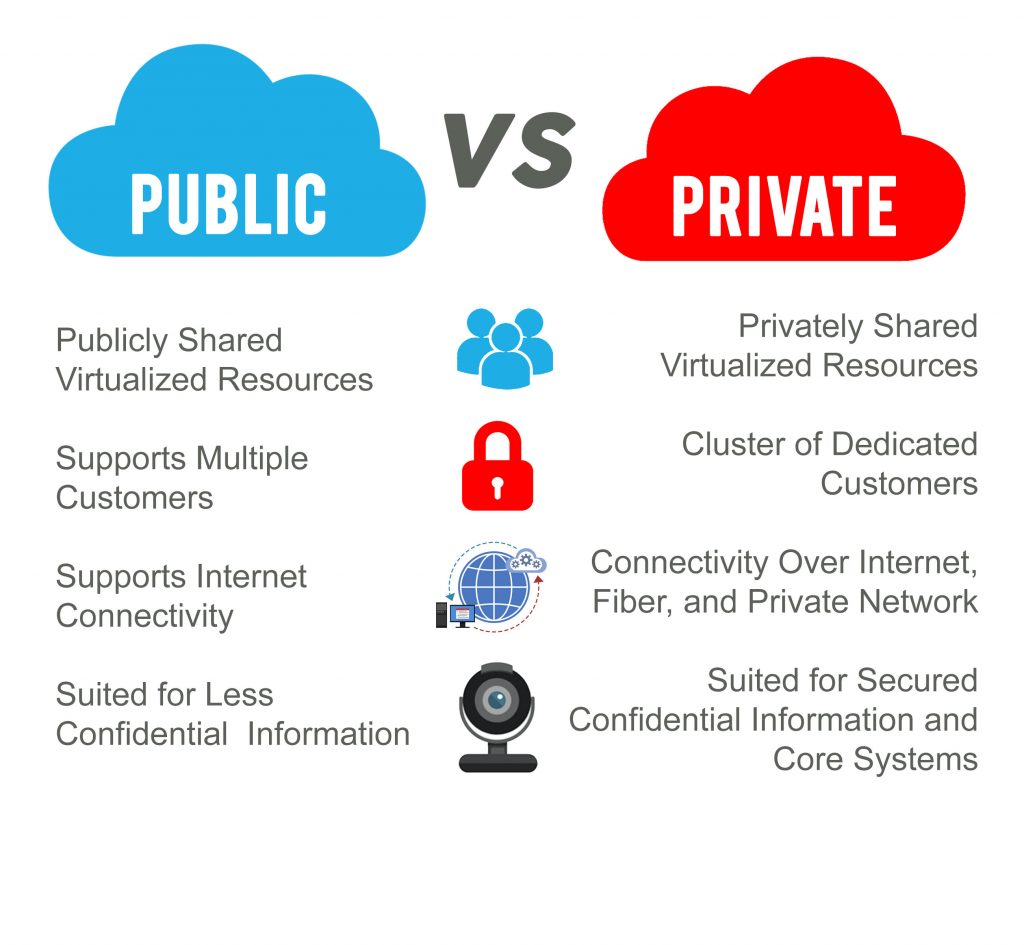 Gmail, U of I Box, Chase Bank, and Carle Hospital medical records are all cloud-service based, yet they're very different. How are they different? We'd hope that your banking and medical records are more secure than your email or file storage, and that's a primary focus of this article. How do cloud services and organizations (or companies) secure your data, based on how it's stored?
There are three main categories of cloud hosting: public, private, and hybrid.
The Public Cloud
Public cloud solutions are readily available from Google, Amazon, Microsoft, and others. Public cloud services provide infrastructure and services to the public, and you, or your organization, secure a piece of that infrastructure and network. Resources are shared by hundreds or thousands of people. Gmail and U of I Box are examples of public cloud services. Google reported in April 2017 that it had 1 billion monthly users. While your email account is protected by a password, the hardware on which it is stored is shared by over 1 billion people.
The Private Cloud
Private cloud solutions are dedicated to one organization or business, and often have much more specific security controls than a public cloud. Many medical offices, banking institutions, and other organizations who are required to meet federal and state guidelines for data controls use a private cloud. Using private cloud storage allows them to control highly sensitive data by meeting regulations and industry-based criteria, whether that be medical records, trade secrets, or other classified information. Private cloud solutions utilize infrastructure that is either owned and controlled by the organization, or they are able to contractually require those specific criteria be met by a vendor who manages the infrastructure.
The Hybrid Cloud
Hybrid cloud solutions are a blend of public and private clouds. This is a more complex cloud solution in that the organization must manage multiple platforms and determine where data is stored. An example of a hybrid cloud solution is an organization that wants to keep confidential information secured on their private cloud, but make more general, customer-facing content on a public cloud.
Cloud Solutions at Illinois
The University of Illinois at Urbana-Champaign makes use of and facilitates the use of, cloud services for faculty, students, and staff. Illinois Compass and Mediaspace are examples of cloud services that Illinois manages on behalf of the campus. These are branded examples where the fact that they are vendor-hosted cloud services is not obvious. Other more obvious examples of widely used cloud services include:
U of I Box

Google Application Suite (Gmail, Google apps, and Google drive)

Office 365 (MS Office on the Web and One Drive)

Amazon Web Services
Amazon Web Services is a cloud-based infrastructure and platform provider that can be used by the Illinois community to build their own services in a public cloud setting.
Illinois also uses private cloud services when requirements are not met by a public cloud provider. Private cloud services available at Illinois include the Illinois Campus Cluster Program and Tech Services Virtual Hosting.